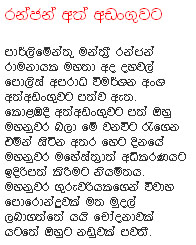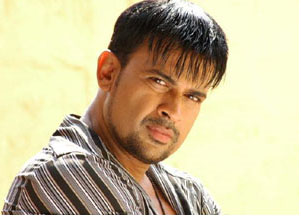 Sri Lankan popular film Actress & Minister of Parliament Ranjan Ramanayake is arrested. This news published by gossiplanka web site.
Adaderana News reports : Ratnapura District United National Party (UNP) Parliamentarian and actor Ranjan Ramanayake has been taken into custody a short while ago, according to sources close to him.
Mr. Ramanayake has been arrested in Colombo over an allegation of fraud amounting to some Rupees one million and is to be produced before the Kandy Magistrate tomorrow, according to Central Province DIG Pujith Jayasundera.
A female teacher of a Kandy school had lodged a complaint with the Kandy Police regarding an alleged financial fraud by Ranjan Ramanayake. He filed for an Anticipatory Bail in courts, which was rejected.
Ranjan Ramanayake Accused For Raping! | reported by Lankagossip.info

TV Derana's 360 programme presenter Dilka Samanmali has been threatened with harm and disrepute to her life following last week's programme featuring Ratnapura District United National Party (UNP) Parliamentarian Ranjan Ramanayake.
Mr. Ramanayake has allegedly called Ms. Samanmali's parents over the phone and accused her of causing disrepute to him over the programme. He had also allegedly told the parents that harm may befall their daughter
Similar to him (Ramanayake) having adversaries in politics, Ms. Samanmali too has adversaries within the media circle. He would make use of these media people to cause disrepute to her, Ranjan Ramanayake had allegedly said.ranjan rape lawyer sue
Popular actor turned politician, Ranjan Ramanayake was the guest on TV Derana's 360 programme last Monday (August 23). This was his third appearance over this popular programme where the host asks direct questions from the guest.
Since this was Mr. Ramanayake's third appearance, he would have known the types of questions that would be posed to him.
When a question regarding a female teacher from a Kandy school who had alleged that Mr. Ramanayake owed her a huge sum of money, was asked he explained the details from his (Mr. Ramanayake's) view point, which was also telecast live over the programme.
However, as a follow-up to the story, TV Derana interviewed the principal of the said school in Kandy and telecast the visual on its main news bulletin on Sunday (August 29). The principal however refuted the statement of Mr. Ramanayake and denied any such incidents involving the school as pointed out by Mr. Ramanayake.
From News

From the Programme

Related Posts :